The Putnam Dance Center, founded in 1996, offers a complete program of dance education for all levels from beginners to advanced. Our goal is to develop coordination, grace, physical fitness, and time management, while building self esteem and confidence. Through positive reinforcement our students will gain a lifelong appreciation for music, dance, and the arts, while creating friendships and memories that will last a life time!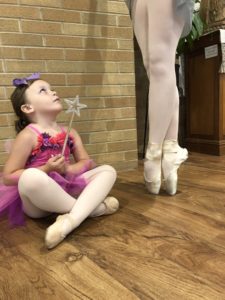 __________
Gift Certificates Available!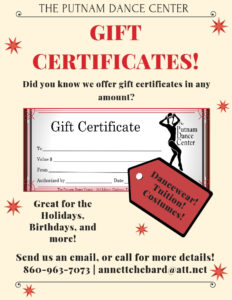 __________
Stay on top of our cancellations, events, and more here:
__________
Wow! What an INCREDIBLE recital, Peter Pan!!!
We are so thankful for all our wonderful faculty, staff, director, and FAMILIES! It is so beautiful for everyone to come together for one common goal, and all our efforts resulted in a FABULOUS performance! The PDC will always be a place to share your love of dance

❤️
We love you all, congratulations!

🎉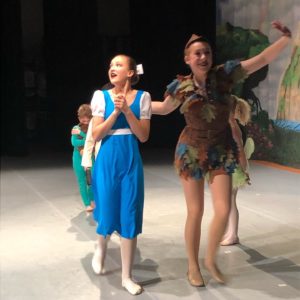 __________
Congratulations to Kelsey Rioux, the new Assistant Director of The Putnam Dance Center! We are so proud of you!
~~~~~~~~
Exciting announcement!
I am now the Assistant Director of The Putnam Dance Center!
The PDC has been a second home to me for the past 20 years, and my heart and soul lives within that studio. I am so thrilled to have a larger role in the accomplishments that each and every individual student makes there. Watching these dancers perform on stage Saturday at the recital filled me with so much joy and love… I know that this is where I was meant to be: fostering a love for dance, encouraging self efficacy, and promoting a strong engagement within the arts and our community. I am really looking forward to furthering my own dance education in order to give my students the best possible experience they can have.
A special thank you to Annette Hebard for not only being an incredible mentor, but for treating me as if I was your own daughter, loving, trusting, and supporting me throughout my life. I would not be the person I am today, or receiving this opportunity without you.
Look out world! We have some pretty outstanding kids coming your way!

__________
Happy Birthday!
Happy Birthday to all our PDC students, faculty and our fearless leader Annette Hebard! We hope you all have a fantastic day! 🌼☀️

__________
Summer Classes!
Check it out! Summer classes have been announced! Click the link below to see what we have to offer this summer. Acro, musical theatre, princess camps, technique classes, intensives and more!
http://www.putnamdance.com/classes/summer-classes/
860-963-7073 
annettehebard@att.net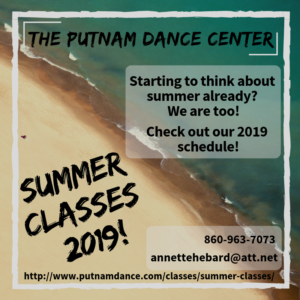 __________
Upcoming Events and Fundraisers!
Dining for a Cause- The Crossings
The Crossings Restaurant & Brew Pub in Putnam, CT invites you to a fundraiser to benefit The Putnam Dance Center's Competition Team as they prepare for a National Competition in June at Virginia Beach!
Wednesday, May 15th, from 5pm-9pm

Parents Night Out!
Parents Night Out is back again! Bring in your child on Saturday, June 15th for a night filled with games, music, pizza, and more! The best part… a night off for you!
5pm-9pm
Recommended ages: 5-10 years old
$20 first child, $10 each additional child from the same family
Space is limited!
PDC and non- PDC students welcome!
~
860-963-7073
annettehebard@att.net
__________
Like us on Facebook!
Follow us on Instagram!