The Putnam Dance Center, founded in 1996, offers a complete program of dance education for all levels from beginners to advanced. Our goal is to develop coordination, grace, physical fitness, and time management, while building self esteem and confidence. Through positive reinforcement our students will gain a lifelong appreciation for music, dance, and the arts, while creating friendships and memories that will last a life time!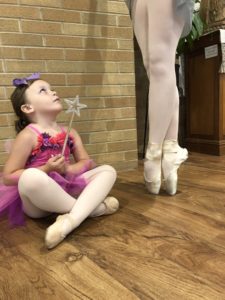 It's not too late to sign up!
But classes are filling up! Save your spot by calling the studio at 860-963-7073
__________
Remember…
10% off your tuition if you pay in full!
__________
Gift Certificates Available!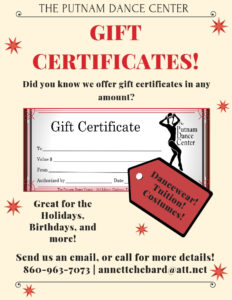 __________
Stay on top of our cancellations, events, and more here:
__________
Can you believe it's January already!? Sending a huge Happy Birthday to all of our students and faculty members born this month. We hope you all have a fantastic day filled with lots of love, laughs, and great memories! ❤️🖤🎉

__________
Upcoming Events and Fundraisers!
Comedy Night!
Check it out! The Putnam Dance Center is holding a Comedy Night fundraiser for our Competition Team!
In partnership with "Funny4Fund$.com," our comedy night will be held at the VFW in Danielson, CT on Saturday, January 12th at 8pm with none other than Scott Higgins! 
The night will kick off at 6pm with snacks, raffles, 50/50, auctions and more!
See a team member for tickets, or contact us at annettehebard@att.net or 860-963-7073.
__________
Like us on Facebook!
Follow us on Instagram!