The Putnam Dance Center, founded in 1996, offers a complete program of dance education for all levels from beginners to advanced. Our goal is to develop coordination, grace, physical fitness, and time management, while building self esteem and confidence. Through positive reinforcement our students will gain a lifelong appreciation for music, dance, and the arts, while creating friendships and memories that will last a life time!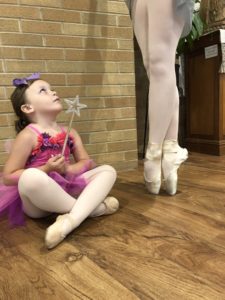 It's not too late to sign up!
But classes are filling up! Save your spot by calling the studio at 860-963-7073
__________
Remember…
10% off your tuition if you pay in full!
5% off your first quarterly payment if you pay before September 10th!
__________
Gift Certificates Available!
__________
Stay on top of our cancellations, events, and more here:
__________
It's November! A big Happy Birthday to all our students, faculty, and staff with birthdays this month! The Putnam Dance Center hopes you all have a fantastic day!

__________
Upcoming Events and Fundraisers!
Parents Night Out
Wow! Our first Parent's Night Out of the year was a huge success! We had such a blast with everyone who came. Looking for another night out? We've got you covered!
Join us on Saturday NOVEMBER 24TH from 5pm-10pm for yet another night of FUN! We will have pizza, a movie, popcorn, games, and activities for children ages 5-10. Call the studio to register by Monday November 19th at 860-963-7073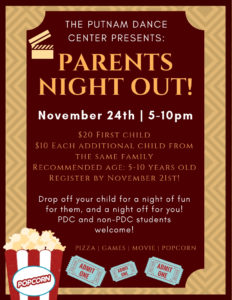 Gift Card Fundraiser
Our competition Team is hard at work preparing for the upcoming season, but we need your help to get to nationals! Check out our GIFT CARD FUNDRAISER for the month of November! 
Rather than purchasing a gift card from the store, purchase one from the front desk or from a comp team member so that we can get a percentage of the amount that you buy. Or, if you know you are going to spend money eventually on gas, Walmart, Dunkin' Donuts, etc. purchase a card for yourself and also help benefit the team!
The best part… there are between 400-500 cards to choose from that work just as if you bought one from the store!
Orders are due DECEMBER 10TH and the cards will be in on December 18th, just in time for the Holidays! Give us a call for more details!  
__________
Classes for Tots!
Do you have a young child at home who just won't stop moving and grooving? Or a child who just loves to listen to music, play with dolls, or use their imagination? Check out our classes for tots!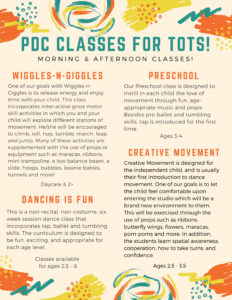 Adult Classes!
Dance isn't just for your kids! We have classes specifically for adults. No experience necessary. Call the studio for more info!
__________
New Class alerts!
Hatha Yoga Flow
Restorative Yoga & Meditation
Sundays: Restorative Yoga & Meditation
7pm – 8pm
Mondays & Tuesdays: Hatha Yoga Flow:
Tues: 7pm – 8pm
$10 drop in rate/ $90 for a 10 class card
Dancing is Fun
(additional day/time!)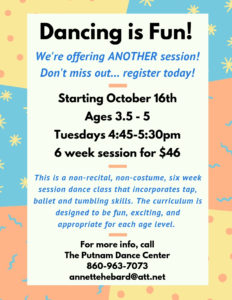 Join any of our "Dancing is Fun" classes, including this session on Tuesdays from 4:45-5:30pm
Call the studio to register or email us at annettehebard@att.net… spots are filling up! We start October 16th!
Beginner Modern!
Amongst many inquiries, we are now holding BEGINNER MODERN for ages 9+ on Fridays.
Call to save your spot! Classes start on October 5th!
__________
Like us on Facebook!
Follow us on Instagram!