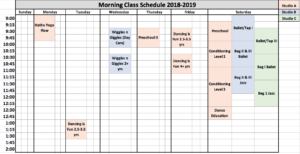 Closed classes:
Beginner Acrobatics | Tuesdays 4:15-5:15
Intermediate Acrobatics | Tuesdays 5:15-6:30
Modern/Ballet | Wednesdays 5:30-6:45
Ballet I & II | Thursdays 4-5
Tap/Jazz I & II |Thursdays 5-6
Hip Hop I | Fridays 4:45-5:30
Hip Hop II | Fridays 5:45-6:30
Teen Hip Hop | Fridays 6-7
Ballet/Tap I | Saturdays 9-10
PreSchool | Saturdays 9:15-10
Ballet/Tap III | Saturdays 9:30-10:30
Beginner 1 Ballet | Saturday 10:30-11:30
New classes!
Yoga!
Sundays: Restorative Yoga & Meditation
7pm – 8:15pm
Tuesdays: Hatha Yoga Flow:
7:15pm – 8:30pm
$10 drop in rate/ $90 for a 10 class card
Dancing is Fun
(additional day/time!)
Join any of our "Dancing is Fun" classes, including this 6 week session on Tuesdays from 4:45-5:30pm
Call the studio to register or email us at annettehebard@att.net… spots are filling up! We start January 22nd!
Beginner Modern!
Amongst many inquiries, we are now holding BEGINNER MODERN for ages 9+ on Fridays.
Call to save your spot! Classes start on October 5th!
__________
Other Classes
Classes for Tots
Do you have a young child at home who just won't stop moving and grooving? Or a child who just loves to listen to music, play with dolls, or use their imagination? Check out our classes for tots!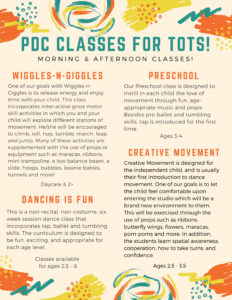 Adult Classes
Dance isn't just for your kids! We have classes specifically for adults. No experience necessary. Call the studio for more info!
__________