New class!
Monday Beginner I Acro 4-5pm Ages 5+ with Annette Hebard
Closed classes for 2019-2020!
Teen Hip Hop | Tuesday

Intermediate Acro Dance | Tuesday
Intermediate II Ballet | Wednesday
Intermediate II Modern | Wednesday
Modern/Ballet | Wednesday
Almost full!
Int. II Ballet Tech | Thursday
Int. I Jazz | Monday

Beg. I Ballet | Friday

Int. I Ballet | Monday
Ballet/Tap II | Saturday
Beg I Acro Dance | Monday
Beginner II Acro Dance | Tuesday
Beg III Ballet | Tuesday
Beg IV Ballet | Monday
Beg IV Jazz | Monday
2018-2019 Classes That Closed:
Beginner Acrobatics | Tuesdays 4:15-5:15
Intermediate Acrobatics | Tuesdays 5:15-6:30
Modern/Ballet | Wednesdays 5:30-6:45
Ballet I & II | Thursdays 4-5
Tap/Jazz I & II |Thursdays 5-6
Hip Hop I | Fridays 4:45-5:30
Hip Hop II | Fridays 5:45-6:30
Teen Hip Hop | Fridays 6-7
Ballet/Tap I | Saturdays 9-10
PreSchool | Saturdays 9:15-10
Ballet/Tap III | Saturdays 9:30-10:30
Beginner 1 Ballet | Saturday 10:30-11:30
__________
Other Classes
Classes for Tots
Do you have a young child at home who just won't stop moving and grooving? Or a child who just loves to listen to music, play with dolls, or use their imagination? Check out our classes for tots!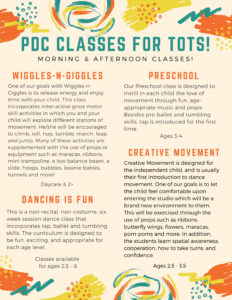 Adult Classes
Dance isn't just for your kids! We have classes specifically for adults. No experience necessary. Call the studio for more info!
__________