The Putnam Dance Center, founded in 1996, offers a complete program of dance education for all levels from beginners to advanced. Our goal is to develop coordination, grace, physical fitness, and time management, while building self esteem and confidence. Through positive reinforcement our students will gain a lifelong appreciation for music, dance, and the arts, while creating friendships and memories that will last a life time!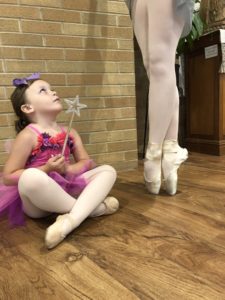 __________
Gift Certificates Available!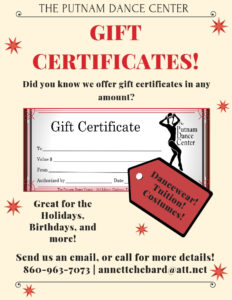 __________
Stay on top of our cancellations, events, and more here:
Due to the impacts of the winter storm, all classes at the studio today, March 2nd, will be canceled. These will be rescheduled for the Saturday of April break, April 20th.
Stay warm and safe! 
Enjoy the day! ❄️❄️❄️
__________
Happy Birthday!
…to all those born in March at The Putnam Dance Center! We hope you all have a great day! ❤️🖤🎉

__________
Summer Classes!
Check it out! Summer classes have been announced! Click the link below to see what we have to offer this summer. Acro, musical theatre, princess camps, technique classes, intensives and more!
http://www.putnamdance.com/classes/summer-classes/
860-963-7073 
annettehebard@att.net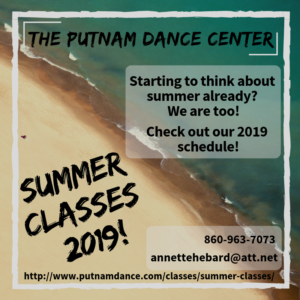 __________
New Classes!
Have you heard about our class Dancing Is Fun?? These are 6 week session classes that are a great way for your little one to have some fun, and try out different styles of dance without having the recital aspect to the class. Call or email us today!
860-963-7073
annettehebard@att.net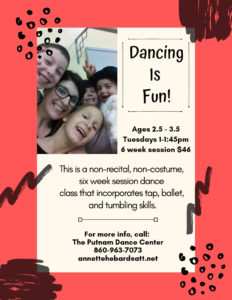 __________
Upcoming Events and Fundraisers!
It's Competition Season!
What an incredible first two competitions! These girls have put in countless hours at the studio working hard in their classes, and rehearsing their routines to prepare for the regional competitions coming up. The hard work is certainly paying off! We are so proud to watch you all shine on stage, and support not only your own teammates, but other dancers from different studios throughout the entire weekend. Keep up the great work! Check out this video with pictures taken at Star Systems!
Next competition will be March 15th-17th in Worcester, MA at Dance Masters of America. Check out the schedule here!
__________
Like us on Facebook!
Follow us on Instagram!