The Putnam Dance Center, founded in 1996, offers a complete program of dance education for all levels from beginners to advanced. Our goal is to develop coordination, grace, physical fitness, and time management, while building self esteem and confidence. Through positive reinforcement our students will gain a lifelong appreciation for music, dance, and the arts, while creating friendships and memories that will last a life time!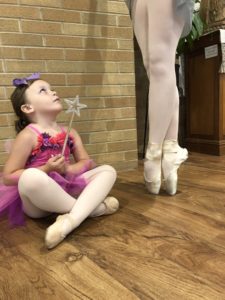 Classes start September 4th!
__________
Stay on top of our cancellations, events, and more!
__________
Classes for Tots!
Do you have a young child at home who just won't stop moving and grooving? Or a child who just loves to listen to music, play with dolls, or use their imagination? Check out our classes for tots!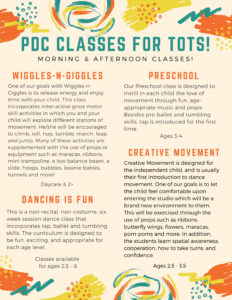 __________
It's not too late to register!
Classes are filling up! Save your spot by calling the studio at 860-963-7073
Remember…
10% off your tuition if you pay in full!
5% off your first quartly payment if you pay before September 10th!
__________
Gift Certificates Available!
__________
New Class alerts!
Vinaysa Flow, Hatha Yoga Flow, and Restorative Yoga & Meditation
Sundays: Vinaysa Flow
5:30-6:30pm
Sundays: Restorative Yoga & Meditation
7pm – 8:15pm
Mondays & Tuesdays: Hatha Yoga Flow:
Mon: 9am – 10am
Tues: 7:15pm – 8:30pm
$10 drop in rate/ $90 for a 10 class card
__________
Like us on Facebook!
Follow us on Instagram!